Adam and I, unfortunately, live in an Internet world where we know who Jako Blodwick (HA HA HA) is, and I'm not proud of it. Adam had
a good post
this morning about online commenting in the context of Blodwick, and instead of leaving a comment on his Tumblr, I wanted to add my two cents here.
I'm reading this really good book by Michael Ondaatje called
Divisadero
, and I was on
GoodReads
and came across this review written by "Tony," and it may be one of the best things I've seen on the Internet all week. Please, take a gander: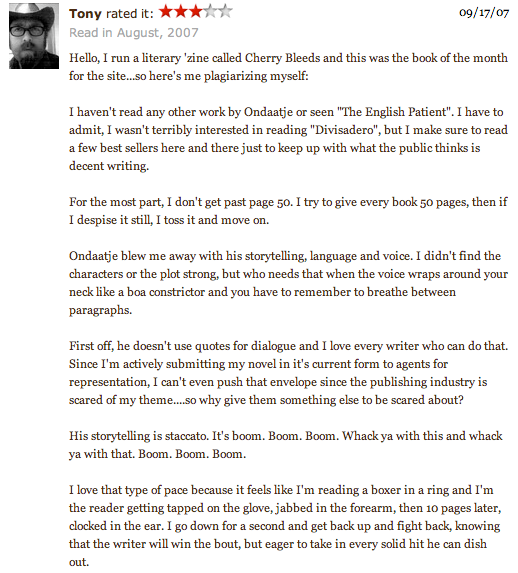 Obviously, the best part is this: "
First off, he doesn't use quotes for dialogue and I love every writer who can do that. Since I'm actively submitting my novel in it's current form to agents for representation, I can't even push that envelope since the publishing industry is scared of my theme....so why give them something else to be scared about?"

You're right, Tony. Don't push the envelope too much. The industry - nay,

the world

- can only take so much of your edge.

I love that Goodreads comments are essentially as bad as the comments on YouTube; it just proves that literacy doesn't necessarily equal intelligence, especially when any asshole can call out a Booker Prize-winning novelist on the Internet and expect some sort of response. Everybody knows that Goodreads is just Facebook with a focus on books: you collect friends and show off how smart you are.