I rarely get unsolicited friend requests from people I don't know on MySpace. When I do, I usually add them because I think, "Hey, maybe they read my blog and want to be my friend!" I don't like looking like a total asshole, despite my self-awareness that, most of the time, I can a kind of jerk (at least when it comes to my Internet-protected bravado).
Occasionally, though, I get a request from someone who is just adding random people, and that's annoying. Especially when that person's pictures look something like this:
Note: I deliberately cut off this guy's face, although I'm rather shocked he doesn't have more pictures of JUST his torso.
Now, here's one thing: Abs freak me out. They don't look natural, and when I (rarely) see them in real life, they scare the hell out of me. So, sorry, your six-pack is unappealing.
Also? This: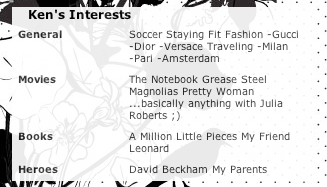 I know I'm one of the thousands of hipster snobs who emailed / blogged about
the

NYT

article
about literary dealbreakers, and I feel like I should explain that I don't think I'd ever end a courtship with someone because they liked Ayn Rand. (Having said that: Would I date an
Objectivist
? Absolutely not.) Hell, I loved
The Fountainhead
, but in the same way that I love
Valley of the Dolls
: it's a guilty pleasure, terribly written, over-wrought, and it has a lot of rough sex. I think that everyone's allowed a few missteps when it comes to their cultural interests, because why would I want to date myself? I can't argue with
myself
, because I am always right.
But when the entirety of your cultural interests are made up of shitty things, I am not interested. And, frankly, those are the kinds of people who are more apt to pimp their profiles. If I can barely make out what your interests are because you have animations and videos and pictures of Kylie Minogue floating around all over the place, I think it's safe to say that, on a base level, I don't think a friendship would really work out between us.