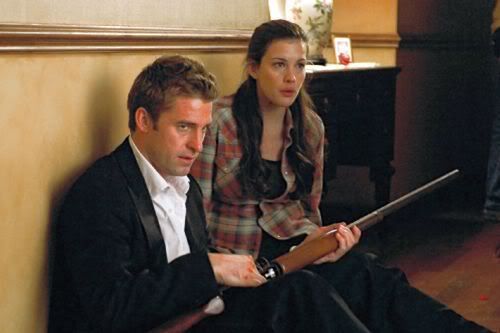 I hated
The Strangers
. So much, in fact, that David and I spent twenty minutes screaming about it in the car. Because we were angry.
I was mad, for one, that they somehow managed to get a Joanna Newsom song on the same record (as in VINYL) as a Gillian Welch song. I don't think that the "strangers" came in at some point, switched the album from
The Milk-Eyed Mender
to
Time (The Revelator)
just so that the needle would skip during the part of "My First Lover" when Gillian sings "Quicksilver girl" (a reference to the Steve Miller song). Also, how did they get a demo version of "At My Window Sad and Lonely" by Billy Bragg and Wilco? (Here's a note to the film's director: just because you use non-mainstream music in your film doesn't mean you're not going to get someone who isn't a Daughtry fan to come see it and CALL YOU OUT ON YOUR SHIT. Sure, a lot of people didn't notice it but I DID and ALL OF MY OPINIONS ARE RIGHT.)
I was also very angry when the film started and the placard told us that it was based on a true story - which it is not, by the way. What's worse is that someone narrated that, as if the director anticipated that his audience would be too stupid to read what's on the screen. That should have tipped me off right there.