It's becoming increasingly difficult to get up on Monday mornings. Today it took me a few extra smacks at the snooze button, as I was busy dreaming about working a criminal investigation with Catherine Deneuve, and who would want to wake up and not know how that turned out?
In an effort to not bore the Internet with the details of my weekend, I'll share that I spent $50 at BabyGap (buying baby clothes, by the way, will go down as one of the most awkward moments of my life because I didn't know how to pick out baby clothes), then bought three more DVDs (and, by the way, I only watched one of the 13 I had planned to this weekend, which was
The Darjeeling Limited
, and it was really boring), and then bought this: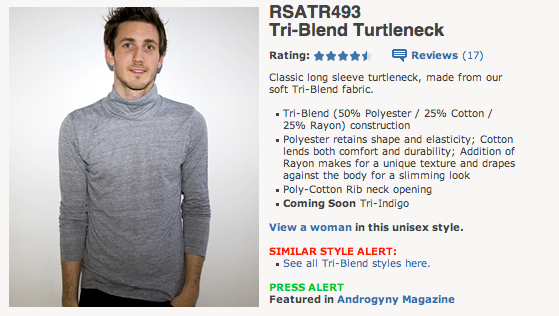 I still don't know how I feel about it, honestly, but I am going to keep wearing it until I make jersey-knit turtlenecks
happen
.
Today is
Casimir Pulaski Day
, which is only exciting if you're Polish, go to a public school in Chicago, or are still obsessed with
Sufjan Stevens
. The rest of us can go on not giving a shit.