This is probably one of the best sentences I've read in a music review lately: "
Of course, [Goldfrapp's]

Seventh Tree

will surely piss off hard-core disco dollies, but think of it as the chilled-out mellow pothead to Supernature's all-night coke whore.
" (via
Alex Balk
)
I have two theories behind my appreciation of the new Goldfrapp album. The first is that I've been going to Berlin too often, and the dancey, disco type of music has ingrained itself into my head so much that I'm actually enjoying electronic music for the first time in my life (see also: Hot Chip, Chromeo, Robyn). Also,
John
is a big fan of Goldfrapp, and the alarm on his cell phone was "Ride a White Horse," which I will forever associate with me being sleepy and hitting the snooze button.
While
Supernatural
-era Goldfrapp is fun to dance to when I've had a lot of gin, I'm not a huge fan of listening to it when I'm sitting around sober. Which is why, I think, I love
Seventh Tree
so much: Alison Goldfrapp has a gorgeous voice, and mixing it with a softer, calmer sound makes perfect sense. It's becoming a nice soundtrack to my general slothful malaise.
Speaking of soundtracks, I recently bought the soundtrack to
Margot at the Wedding
, which I watched on Saturday. I really loved the movie, much more than I expected considering its mostly dismal reviews. I do adore Noah Baumbach's writing, however, and
Margot
didn't necessarily have the stinging dialogue of
Kicking & Screaming
(which I bought over the weekend, as well) or
The Squid and the Whale
, but it was gorgeous to look at. I do love me some intellectual, dialogue-heavy films about emotionally-detached New Englanders.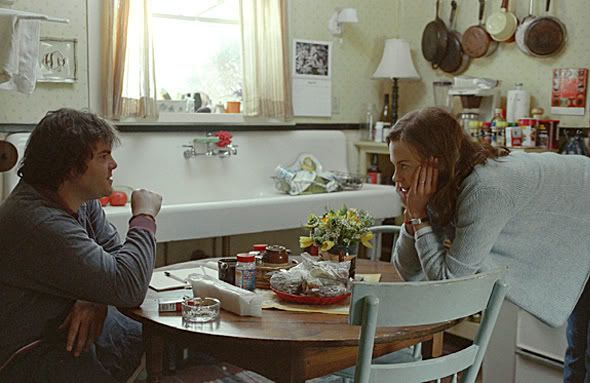 The
soundtrack
is wonderful, featuring a collection of '70s soft folk-rock (I never knew I'd like Gilbert O'Sullivan so much!), as well as some Blondie, X, Dinosaur Jr., and Dean & Britta. I have a feeling these songs will be mix-CD staples for a few months.